Overview

Reviews

Comments (3)

What's new
Trailing System
Trailing System is used to semi automate your exit strategy. The system covers a Stop Loss System to get out of bad trades and a Profit Protection System to exit winning trades. The Trailing System can be placed on any chart, and it works based on the chart timeframe. You can use this system with any other Expert Advisor simultaneously.
Features
Virtual Stop Loss
Hide the stop loss level to prevent stop loss hunting by brokers. Stop loss level are hidden by using a target price of a sell limit order with the open price of 4 444.
Multiple Trailing System
Break-even
Auto adjust stop loss to break-even after your position has moved a certain number of pips in your favor.
Support/Resistance Trailing
The system places a stop loss on previous support/resistance level, the system uses a fractal to identify where these support and resistance levels are located.
Price Action Trailing
Trailing based on a candlestick pattern (shooting star, hammer and engulfing pattern).
Different Trailing System for Profit and Loss
Use different trailing system for your stop loss strategy and profit protection strategy.
Preset Stop Loss and Profit Target
Preset how many pips to stop loss and take profit once a position is open.
Spread Tracking
Preset maximum acceptable spread for a currency pair to prevent stop loss being hit due to the "spread spikes" around news releases or low liquidity period.
Auto Trade
Enable the auto trade function to automate an open position based on a candlestick pattern or open trade if price retraces back to the average of fast and slow EMA.
Special Command
Command code to modify system settings without login to VPS:
Change Stop Loss or Profit Protection System for a position (as in the table below)
Add or edit a virtual stop loss level (edit the target price of a sell limit order of 4 444)
Decide which direction to trade (send the sell limit order price of 8 888 for Long and the sell limit order price of 9 999 for Short, the system opens a trade only if a candlestick setup formed or the price retracts back to the average of slow and fast EMA)
Note: Disable AutoTrade if you want to use this function
Check Trailing System running status (send the sell limit order price of 5 555 and wait for a target price to change to 3 333 if the system is running).
Override the Stop Loss System for an individual position
Position
Stop Loss Price
Stop Loss System
Long
0
As the EA settings
Long
0.01 (2 decimal digits currency pair)
0.001 (3 decimal digits currency pair)
0.00001 (5 decimal digits currency pair)
Resistance/Support
Long
0.02 (2 decimal digits currency pair)
0.002 (3 decimal digits currency pair)
0.00002 (5 decimal digits currency pair)
Price Action
Long
0.03 (2 decimal digits currency pair)
0.003 (3 decimal digits currency pair)
0.00003 (5 decimal digits currency pair)
Resistance/Support and Price Action
Long
0.04 (2 decimal digits currency pair)
0.004 (3 decimal digits currency pair)
0.00004 (5 decimal digits currency pair)
Turn off the Stop Loss System
Short
0
As the EA settings
Short
9001
Resistance/Support
Short
9002
Price Action
Short
9003
Resistance/Support and Price Action
Short
9004
Turn off the Stop Loss System
Override the Profit Protection System for an individual position
Position
Target Price
Profit Protection System
Long
0
As the EA settings
Long
9001
Resistance/Support
Long
9002
Price Action
Long
9003
Resistance/Support and Price Action
Long
9004
Turn off the Stop Loss System
Short
0
As the EA settings
Short
0.01 (2 decimal digits currency pair)
0.001 (3 decimal digits currency pair)
0.00001 (5 decimal digits currency pair)
Resistance/Support
Short
0.02 (2 decimal digits currency pair)
0.002 (3 decimal digits currency pair)
0.00002 (5 decimal digits currency pair)
Price Action
Short
0.03 (2 decimal digits currency pair)
0.003 (3 decimal digits currency pair)
0.00003 (5 decimal digits currency pair)
Resistance/Support and Price Action
Short
0.04 (2 decimal digits currency pair)
0.004 (3 decimal digits currency pair)
0.00004 (5 decimal digits currency pair)
Turn off the Stop Loss System
Buyers of this product also purchase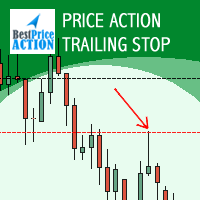 Price Action Trailing Stop
MYLABSHOP PLT
A key element of trend trading is using a trailing stop loss in place of exiting trades with a pre-determined target. This allows for a trade to continue working in the direction of the trend. In good trends this is a very efficient way of profiting from the markets. The Expert Advisor is meant for securing/locking profit as the price moves in favor of a trade. The Expert Advisor can be placed on any chart and be used simultaneously with any other Expert Advisor. You can initialize your stop los
30 USD