Overview

Reviews

Comments

What's new
High frequency trend tracking
Use small stops + tracking stops to capture maximum profit in short term trends.
Fixed initial trading volume of 0.01 hands.Trading volume will be dynamically added by 1% based on the current balance.
This EA belongs to high frequency trading, which is risky. Please use it carefully for firm trading.
Backtest only applies to select mode 1 Minutes OHLC.
Apply to most currency pairs and gold.
Recommend GOLD XAUUSD GBPUSD EURUSD .....
Parameter description:
Timeframes: Timeframe selection. Default H1
Volume: Volume or proportion. Default 0.01.
Volume Usage ratio: Trading volume is proportional. Default true.
Min SL: minimum stop loss (point value)
Tracking Trigger: Trace the stop trigger position (positive number is the point value, negative number is the proportion)
Tracking Rollback:

Traces the stop retracement position relative to the trigger position (positive numbers are point values, negative numbers are proportional)
Note: Historical backtests do not represent the future, so choose carefully.
Buyers of this product also purchase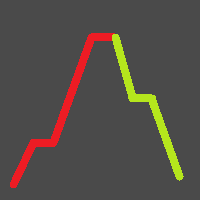 Pole Line
Xiong Luo
根据高开低收价格确定反转点位,画出的极点折线。 The pole polyline is drawn according to the high opening and low closing price to determine the reversal point. 参数(Args): 1.周期数(Period)。参与界限计算的K柱数量。 2.界限(Divide)。计算方式包括:         t1,顺高低价 (Buy min H,Sell max L)           t2,逆高低价 (Buy min L,Sell max H)           t3,收盘价 (Buy min C,Sell max C)           t4,开盘价 (Buy min O,Sell max O)           t5,高开低收价的一半 (HOLC/2)           t6,高开低收价的一半+1 (HOLC/2+1)           t7,高开低收价的一半+2 (HOLC/2+2) 3.跨越界限使用的价格(Price)。包括收盘价(C)和高低价(HL) 4.偏移(
50 USD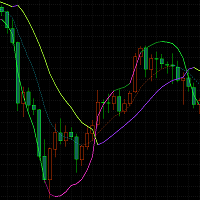 Cross Rail
Xiong Luo
A cross - track indicator that visually shows the current bullish/bearish trend of the market through the midline (mid track), main line (upper track), and sub-lines (lower track). Intersections or upper rail turns can be used as buying and selling positions. Parameter description: period:10 price: WEIGHTED //HIGH //LOW //OPEN //CLOSE //MEDIAN //TYPICAL //AVERAGE //WEIGHTED method:Linear weighted //Simple //Exponential //Smoothed // Linear weighted main offset:1.5 sub offset:1 base:2 counts ad
200 USD
Modify the maximum volume limit