Overview

Reviews (1)

Comments
MA Sclope Scalper
ATTENTION - 50% OFF FOR 3 DAYS!
Welcome traders, MA SLOPE SCALPER is a really powerfoul tool to boost up your scalping!
Have you been struggling with your scalping Strategies?
Have you tried price action? Well, it does not work.
Have you tried Rsi - Reversal Strategies? Well it'is not a clever idea.
MA SLPOPE SCALPER IS A TREND FOLLOWER SYSTEM
MA SLOPE SCALPER is based upon 3 different Exponential Moving averages that have bees studied and selected in order
to maximize the precision of the signals!
Ma SLOPE SCALPER has an internal FIlter to trade with Trend!
FEATURES:
SCALPING ENTRY - EXIT INDICATOR
ALL PAIRS
30 MINS CHART
EASY TO READ AND TO USE
NO OTHER INDICATORS NEEDED
PUSH NOTIFICATION AND EMAIL
MOVING AVERAGES BASED
SIMPLE - CLEAR - FAST




EASY LIKE IT SEEMS:


Blue Bar

=

BUY SIGNAL
Red Bar

=

SELL SIGANL
Grey Bar

=

NO TRADE / Exit Previous Position






SUGGESTED MONEY MANAGMENT:




Risk Reward: 1:2

Stop Loss: Place the Stop Loss at the Value of a Exopential Moving Average with period of 20






WHAT TO TRADE?


PAIR: MA SLOPE SCALPER has been tested across all asset classes: you can use it In Forex, Indices or Gold with no problems
Time Frame: MA SLOPE SCALPER is a Scalping tool: the best time frame is the 30Mins Chart or eventually 1Hr. Going to 15mins or 5mins is possible but you have to change inputs.
INPUTS:


Ma SLOPE SCALPER has 3 inputs and it has also the possibility to send Notification via eMail or Mobile to the trader.
Fast_Ma:

the period of the fastest Ma that generate Signal
Medium_Ma:

the period of the first filter Ma
MegaTrend_Ma:

the period of the bigger filter that avoid trading counter trend.
Buyers of this product also purchase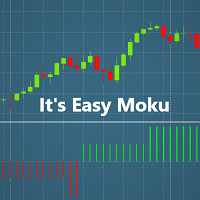 Easy Moku
Luigi Maria Luna
Introduction: Welcome dear Users, This indicator has been developed in order to help traders who are daily struggling to find a strategy . I have always been acctracted by Ichimoku Strategy, however took me sometime figure out how it does work. Easy Moku makes Ichimoku Simple! Aspect: Easy Moku shows 2 principal ICHIMOKU signals:  kijun sen/tenken sen sen crossover  Span A Span B + Kijun sen/tenken sen Get Rid of all the Ichimoku Lines! On the Mt4 Chart the Easy Moku paints an Histog
FREE