Overview

Reviews

Comments

What's new
Fiber Trail Blazer MT5
Why should I choose this EA over others?



Fiber Trail Blazer does fit your needs, if:
- you're tired of fighting the market each day just to cover the spread and your broker's commissions,
- you're looking for a robust EA tested under many different conditions
- you believe that Biden will actually be the next president of US, pushing Trump's tweets into the past (his tweet storm was the only unfavorable market conditions for the EA discovered during the backtest)
- you perceive trading as a game of numbers that just can and should be profitable in the long run, and you're not doing it just for a thrill.
- you want to use thoroughly tested EA, taking realistic spread and slippage into consideration.


What features does this EA have?
- it is designed to trade on EUR/USD 1H charts,
- it attempts to catch the swings, the core philosophy here is "don't anticipate, just participate"
- it uses stop orders to enter the market, with their prices being automatically adjusted as the market develops,
- it risks fixed amount of money, calculating the size of the position according to sensible SL level given current setup (volatility, among others)


What are configuration options?
- MagicNumber – used to easily distinguish this EA from others if you decide to run multiple strategies on one account.
- RiskedAmount – how much money you want the EA to risk at each trade. The strategy was tested with $200, i.e. 2% of initial balance of $10000. You can also set it to a lower value or scale it up periodically, in proportion to the account growth (if you have such risk appetite and target even higher returns),
- ExitForWeekend – whether you want the EA to close all positions on Friday, to avoid some unexpected big gaps that could happen over the weekend (true/false)
- FridayExitTime – the exact time when the EA should close the positions (expressed in your broker's time zone, as you see the time on your chart).
Buyers of this product also purchase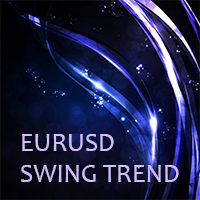 Fiber Trail Blazer
Kamil Dymarczyk
Why should I choose this EA over others? Fiber Trail Blazer does fit your needs , if: -           you're tired of fighting the market each day just to cover the spread and your broker's commissions, -           you're looking for a robust EA tested under many different conditions -           you believe that Biden will actually be the next president of US, pushing Trump's tweets into the past (his tweet storm was the only unfavorable market conditions for the EA discovered during the backtest
128 USD