Overview

Reviews (3)

Comments (3)
Candle by Seconds
It was developed especially for intraday operations, allowing the market operator to create unconventional candlestick charts, to escape the traditional points of OHLC (Open, Hight, Low and Close).

This Expert Advisor (EA) assembles custom candles in any time frame by seconds unit. You can generate charts that are not available in standard Metatrader 5 periods, for example: Generate a chart of an unconventional time frame of 27 seconds or, if you want to generate 7 minutes time frame, just type "420 seconds", 11 minutes type "660 seconds" and so on.
SOME IMPORTANT GUIDELINES


[ 1 ] Always use the M1 time frame to insert the EA;

[ 2 ] The CANDLE BY SECONDS will create an offline chart, starting your bars sequence based on the current bar of the M1 time frame;

[ 3 ] Reproduce the history of the last 5 days from the date it was inserted in the chart;

[ 4 ] If you want to open more charts of the same time frame after the first chart is created by EA, just click on the button "Create a new chart" on Metatrader 5, select the option "Custom" and then "TimeCharts". You will see the time frame created, so just select and a new window open. Repeat this step for each new copy.
SETTINGS

[ Candle Custom ] Seconds = Set any number in seconds to form the time frame of the bars

[ Candle Custom ] First Bar delay (Seconds) = Set a delay in the unit of seconds before start bar formation ( 1 to 59 seconds )
[ Candle Custom ] Chart mod = Choose the option "Current Window" to open the new chart on the M1 current time frame or choose the "New Window" and, thus, allow the application of other EAs in the new window opened

[ Spread|Countdown ] Enable = Choose "Yes" ou "No" to show on chart the informations of the price spread and seconds countdown

[ Spread|Countdown ] Corner = Choose the position corner on the chart to show the informations
[ Spread|Countdown ] Font size = Choose the font size of the information

[ Spread|Countdown ] Font color = Choose the font color of the information
Buyers of this product also purchase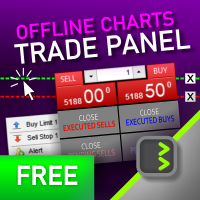 Trade Painel OfflineCharts
Marcelo Akio Iqueuti
It is a panel that seems common, however, far beyond those of additional buttons for closing multiple orders, it is essential for those using the offline charts generators for Renko, Range, Ticks, and similars because in the Metatrader 5 does not allow the manual operation of orders in these charts that are generated synthetically. The "TRADE PANEL" makes it very easy to handle both orders executed to the market and the placing of pending orders, offering practically the same immediate acti
FREE