Overview

Reviews

Comments

What's new
Wave Trend Indicator
The high and low band points made strictly according to Dow's theory can be used to distinguish the position of support and resistance, to identify the starting point of trend, and to stop and stop loss.
Whether you are a trend trader, an day short-term trader, or a scalp trader, I believe this indicator will be of great help to you.
For example, when the price goes down through the green line, the current short trend starts, and when the price goes up through the red line, the bull trend starts, the corresponding High and Low act as the effective stop-loss line for opening positions, and the corresponding reverse crossing act as the stop-loss position.
Of course, with other theories such as charts, Gann,Turtle、 and so on, indicators can play a greater role.
I won't go into any more details here. You can find other interesting uses of this indicator according to your trading strategy.
Indicators do not have external parameters, and the results will not be inconsistent according to the number of backtracking columns. All the conditions used are entirely from the market, that is, always follow the steps of the market.
Buyers of this product also purchase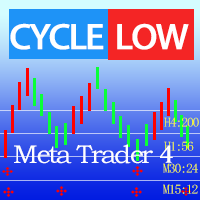 Cycle Low Indicator
Qian Ha
Doing things and doing trading are time-sensitive, geographical and people-friendly. Usually, most of the time we only care about which price to open a position, which price to stop losses, and which price to stop earnings, which is called geographical advantage. Little attention is paid to when to open  a position, stop losses and stop earnings, which is called Tianshi. This indicator can help you find out when to do trading, when to turn off the computer to accompany your family, travel
30 USD
Upload the error file in the previous edition.
1. The previous problems were corrected.

2. Add display Wave numbers.
The problem that the calculated pressure line disappears after network interruption is optimized.
I made a little change and I was depressed.
1. On the basis of the first edition, it is slightly changed and more accurate.

2. Remove the highest and lowest points, leaving only pressure and support.