Overview

Reviews

Comments (2)

What's new
Zenturion
Trading signals are obtained through three stochastic indicators and a method for avoiding bad entries.
Among its characteristics are:
Trading Pannel with buttons BUY - SELL - CLOSE
Money management that calculates the volume of orders based on the percentage of the total balance
Automatic operation mode or manual mode where the EA only draw signal
Designed to optimize fast only with opening prices
Doesn't use martingale
Inputs
Automatic Entry: On / Off.
STCH 1º Kperiod : K period for the first stochastic indicator.
STCH 2º KDeltaPeriod - STCH 3º KDeltaPeriod : These values are added together to determine the period of Stochastics 2 and 3.
STCH 1º slowing - STCH 2º slowing - STCH 3º slowing: Slowing for each of the stochastic indicators.
Volume fix? : Here we can select two options, Fixed_Volume or Percent_Volume.
Case Fixed Volume : In case of Fixed_Volume, enter here the volume per operation.
Case Percent of total balance : In case of Percent_Volume, enter here the percentage per operation.
TP : Take Profit Distance.
SL : Stop Loss Distance.
Slipage MAX: Maximum deviation allowed when opening an operation.
Magic: Number for robot identification.
The recommendations by the creator of this EA are to optimize periodically in strategy tester with historical data for the last 12 months (with 1 minute, 2 minute or 3 minute open prices only for higher speed). After selecting the desired configurations, test those sets in the mode based on real ticks and verify that the result does not change. After choosing the one that suits your interests the best, let it operate without interruption.
Buyers of this product also purchase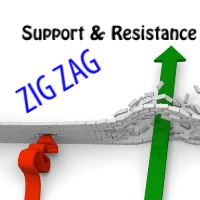 Support Resistance ZigZag
Imanol Salazar Garcia
The indicator marks supports and resistances of each rebound, also the maximum price and the minimum price of the day. It has a basis for developing strategies, as well as for a good technical analysis. It is very easy to detect trends, channels, trend changes, breaks and other events. It works in any timeframe as in any type of market. No additional parameters are needed.
10 USD
+ Replanteamiento del sistema de inputs para hacer el sistema mas intuitivo de cara al usuario.
+ Nuevo diseño del panel de control.
+ Eliminado control horario, la estrategia se desarrollará 24/4
+ Reescrita mucha parte del codigo fuente para hacerlo mas eficiente y usando nuevas librerías MQL5.
Added the option to enter the fixed volume in addition to the variable volume.

Volume fix? (true = volume fix, false = volume variable)

Fixed volume - Here we enter the fixed volume if you want that option

Percentage of total balance per operation (volume variable) - Here we enter the percentage of the balance to be invested in case of wanting this option