Overview

Reviews

Comments (1)

What's new
Hills trend system
The indicator is based on the Moving Average (MA), Bill William's oscillator (Awesome Oscillator, AO) and N pattern.f
It gives accurate and timely entry signals which appear as a dot on the current candle.
It is strongly recommended to use technical analysis (support/resistance lines and channels) to filter signals.
Enter by market or using pending orders on the level of the entry point.
The indicator has flexible settings to adapt to the market situation.
Indicator Parameters
mode: indicator type

Standard version_MA_AO_N: standard version of the indicator
version_MA_N: without the АО (Awesome Oscillator) filter
version_MA_simplified pattern N: simplified filter of N pattern

version_MA_extreme pattern N: N pattern without the filter
N: pattern algorithm
ma_period: Moving Average period
ma_method: smoothing methods
AlertOn: enable or disable sound alert
Buyers of this product also purchase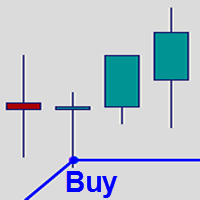 Trend corrections
Sergey Danilov
The main aim of this indicator lies in determining entry points on trend corrections. The indicator is based on the Moving Average (MA), Bill William's oscillator (Awesome Oscillator, AO) and N pattern.f It gives accurate entry signals which appear as a dot on the current candle. It is strongly recommended to use technical analysis (support/resistance lines and channels) to filter signals. Enter by market or using pending orders on the level of the entry point. The indicator has flexible setting
25 USD
Added the "mode" tab, which contains the simplified variants of the algorithm for a more flexible customization of the indicator.

Standard version_MA_AO_N - standard version of the algorithm
version_MA_N - removed the AO filter
version_MA_simplified pattern N - removed the AO filter, simplified the N pattern
version_MA_extreme pattern N - removed the AO filter, greatly simplified the N pattern