Overview

Reviews (1)

Comments (10)

What's new
Trade Panel for Binary Options DEMO
This easy-to-use panel with custom interface is designed for trading binary options in MT4.
When you place an order it draws an arrow indicating an option direction and its expiration time.
You can log completed operations.
It displays two vertical lines on the chart. The continuous line indicates a selected period of the option expiration, and the dashed line is drawn two minutes before expiration.
The standard deviation channel can be automatically displayed if necessary. The channel will automatically follow the price and display data for the selected period.
The demo version does not have trading operations. The panel will draw arrows, but orders will not be placed. This is suitable for adjusting your strategies.
Buyers of this product also purchase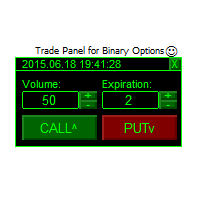 Trade Panel for Binary Options
SERGEY GOROKHOV
This easy-to-use panel with custom interface is designed for trading binary options in MT4. When you place an order it draws an arrow indicating an option direction and its expiration time. You can log completed operations.  It displays two vertical lines on the chart. The continuous line indicates a selected period of the option expiration, and the dashed line is drawn two minutes before expiration. The standard deviation channel can be automatically displayed if necessary. The channel will aut
10 USD
Для канала Стандартное отклонение, теперь можно задать период через отдельную настройку StdDevChannelPeriod
Появилась возможность изменить стиль стрелок.
Добавлена опция логирования заявок в csv файл