Overview

Reviews

Comments
Advanced Pattern Software gartley bat and cypher
Advanced Pattern Recognition Indicator
If you struggle to have a consistent strategy, this indicator is just great for you. Also known as "harmonic patterns", this indicator is a tool for those who want to take money from market when the price is just a mess. This software helps you to identify patterns such as Gartley, bat and cypher. This indicator does not redraw like all the "harmonic software" you will find in the market. This feature gives you enough time to decide if it is a good trade opportunity (risk reward ratio and support/resistance levels). Remember that you should not trade all the opportunities, but only the best ones.
Suggestions for Trading with this Tool
Load 3 indicators in your chart window with this inputs: barforsearchextremum = 5. barforsearchextremum = 10. barforsearchextremum = 20.
Entry at D point (the end of the pattern).

Set stop loss 10 to 15 pips away from x point (the beginning of the pattern).
Set target profit at 38 Fibonacci retracement (attached images).
You can also set a second take profit at 61.8 Fibonacci retracement (attached images).
Avoid trading while important news (they like to mess with patterns).
Use 1 hour and 4 hour time frames.
Buyers of this product also purchase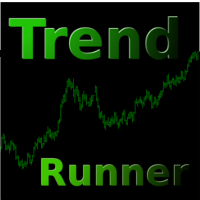 Trend Runner
Jose Alberto Lopez
Forget about spending all day in front of your computer, this ea will help you to get in long term trends, it will detect the beginning of a new trend and will try to get the most of the trend. Ea will cut the losses as soon as possible but will let you stay until the end of the trend. Ea will trail your stop to lock your position but will let enough "space to breath" so that you don't get stopped out because of a tight stop. Recommendations It is recommended to have a Market Bias (Bullish or
300 USD