I look for a skilled programmer who can add additional functions to a previously developed multi terminal trading system.
The system is based on two Experts (Master and Slave) and trades swaps against each other. Master EA and Slave EA exchange data and commands through WinApi. The code structure is clear and a professional coder will not find it difficult to make changes to the existing code.
Advanced tasks
A new pairing function needs to be added. It is a function what allows to pair/group selected trades and setup separate handling rules for them.

A new interlocking function needs to be added. It is a function what monitors trades and close all corresponding trades if one of the interlocked trades gets closed from whatever reason.

The exchange protocol to transfer data back and forth between MT4 Slave and MT4 Master EA exists and works fine. MT5 slave and MT4 Master see and connect to each other but the MT5 slaves requires debugging and probably some changes need to be made to the exchange protocol.
Regular tasks
Layout related changes. Some distances require correction and some buttons are not on the correct place.

Summary calculations require some adjustments. Calculations itself are correct (formulas exist) but some adjustments are needed. As example: Currently info is displayed for active trades but not for new trades.

Scroll and sort function for trades displayed on the panel needs to be developed. A simple function what allows users to scroll through trades shown on the panel and sort them by values.
Easy tasks
E-Mail notification function exists and works but old notification messages need to be replaced with new ones.

Messages shown on the chart panel need to be updated.
Visual Example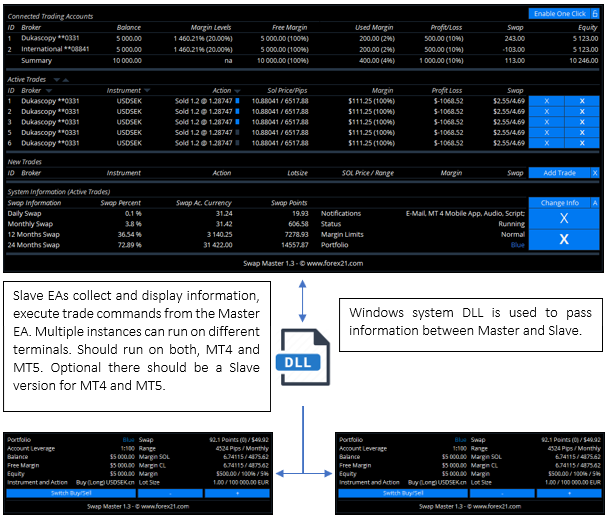 The developer who worked on this project has 2 COVID cases in his family and could not finish the project. The original budget was $2000 and 90% of the project are finished. I think a budget of $600 and 3-5 days is reasonable to complete the project.
After submitting your bid, you will receive the source files and the original project description (if selected). This will give you the possibility to take a close look to everything before starting.
The agreement is to finish the project according to the project description. Delays of more than 10% of the project time are not accepted from my side.
I look forward to receive your bid. If you have any questions first, please do not hesitate to get in touch with me.
Alexander
Job has been deleted