Interesting script?
So post a
link
to it -
let others appraise it

News Hour Trade - expert for MetaTrader 4
Views:

22725

Rating:

votes: 34

Published:

2015.07.27 12:54

Updated:

2016.11.22 07:32
You are missing trading opportunities:

Free trading apps
Free Forex VPS for 24 hours
Over 8,000 signals for copying
Economic news for exploring financial markets

If you do not have an account, please

register
Expert Advisor I have developed for News Time Trading.
The EA is not fully automatic, you must set the time before 1 minute of news release time and lot, s/l, t/p accordingly.
Remember — time settings must be your broker's MetaTrader 4 server time.
Set and leave it. Get the Results.
I can not guarantee the EA makes reliable profit, but if you setup the settings when you have heard the better news, it's working good.
Updated version 2: Added Magic Number.
Updated version 3: Added option to change Expiry time for pending order (Remember expiry time in minutes).

Input parameters:
StartHour = 

1

;       1;     // Starting Minute News Released time (-1 minute)
DelaySeconds = 5;    // Default 5 seconds
Lots = 0.1;          // Lots Size
StopLoss = 20;       // StopLoss
TakeProfit = 50;     // Take Profit
PriceGap = 10;       // Price Offset
TrailStop=false;     // Enable/Disable Trailing
TrailingStop = 20;   // Trailing Stop Value in Pips
TrailingGap = 10;    // Trailing Gap in Pips
BuyTrade=true;       // True=Enable Buy Trade; False=Disable Buy Trade
SellTrade=true;      // True=Enable Sell Trade; False=Disable Sell Trade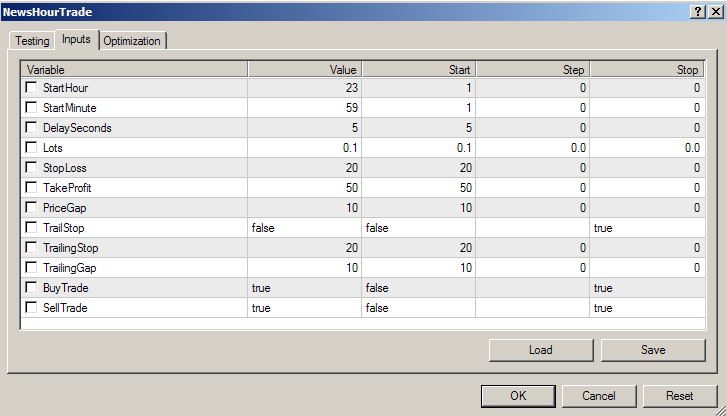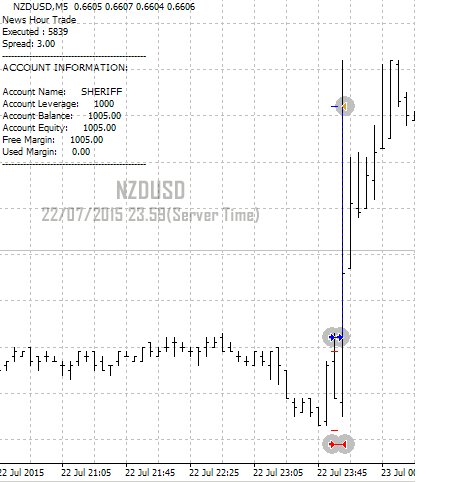 Hull Moving Average
The Hull Moving Average (HMA) is an extremely fast and smooth Moving Average that almost eliminates lag altogether and manages to improve smoothing at the same time.

Bounce Strength Indicator 2.0 with Tango Line
Bounce Strength Indicator (BSI) shows the strength of bounce. It now works in trend and uses Tango Line calculations.

PriceHistogram OnClick Event
This indicator shows four price histograms when a chart click event is fired.

DXWeekSnR
Indicator of support and resistance levels based on Open Close High Low Weekly Candle.