DETAILED PERFORMANCE REPORTS ARE AVAILABLE HERE!
Setting up SSA M1 Commander requires a few steps but is simple and done in minutes. Please make sure you are using a recommended broker and VPS (more information on both)
There are just 4 simple steps:
Buy and download
Setup SSA M1 Commander in Metatrader 4
Open portfolio
Configuration of INPUTS parameters

1. Buy and Download:
Buy SSA M1 Commander here or in your MetaTrader 4 Market.
In case of questions on how to buy and download an expert advisor, please consult MQL5s help pages

2. Setup SSA Commander in Metatrader
Choose your risk setting and calculate your individual stop loss (Excel file).
Drag SSA M1 Commander onto predefined portfolio (see 3. Open portfolio)
Activate "Allow live trading"
Setup INPUT parameters (see 4. Configuration of INPUTS parameters)
When finished will all pairs activate "AutoTrading"
SSA M1 Commander is ready for duty!
How-to-Video:
Note: this video shows SSA Commander Lite, but all steps are identical.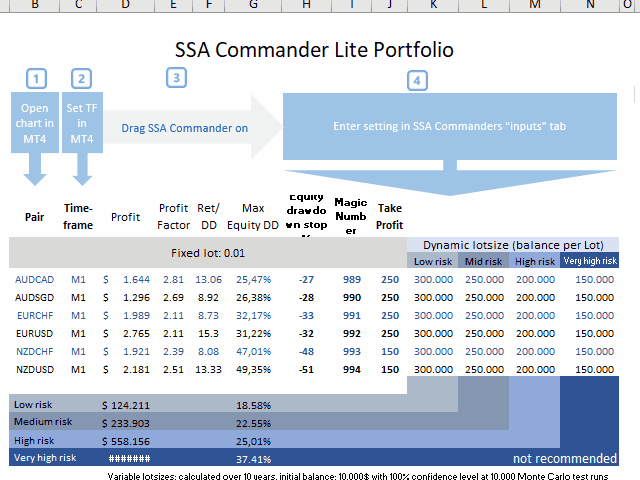 3. Open portfolio
Please use a minimum deposit of 2000$.
Tipp:
To further decrease your risk or exposure to large market movements, you may remove any pairs, that might be too risky in your view (e.g. GBPXXX in times of Brexit).
Deactivating your expert advisor on days with a high potential for major market movements (e.g. non-farm payroll USA) can help managing risks.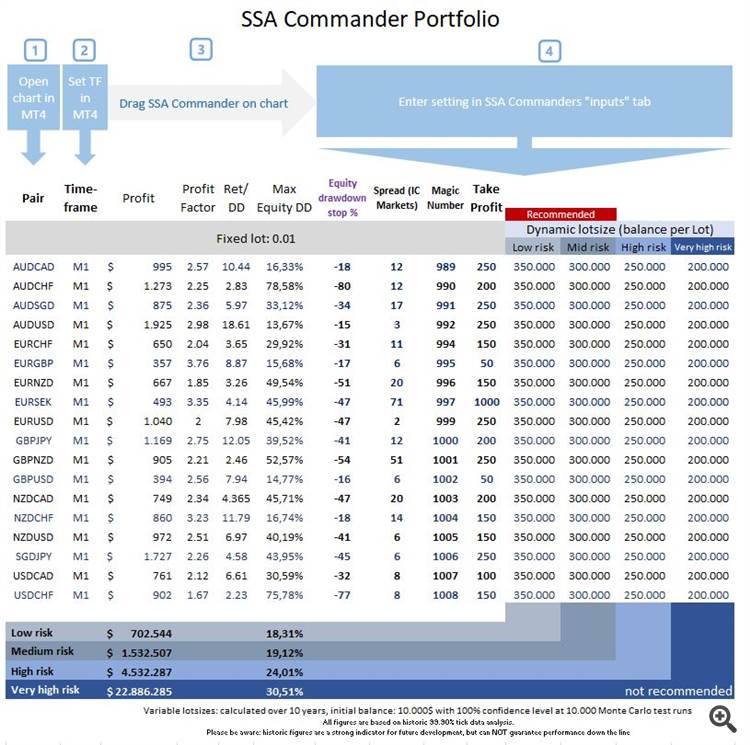 Tipp: Download portfolio as Excel file here and automatically calculate your individual stop loss!

Important information:
More pairs equal a higher exposure to risk. Sort out pairs, that have a too high drawdown for your personal risk appetite!
Configure pairs with higher drawdown with higher balance per lot settings (300k or above) to reduce risk exposure
Increase your account balance if using fixed lot size 0.01 to reduce risk further

4. Configuration of INPUTS parameters
Here you will find an explanation and recommendation for all setting you can adjust in the expert advisors "Inputs" tab:
Important: Minimum of 1440 bars required in MT4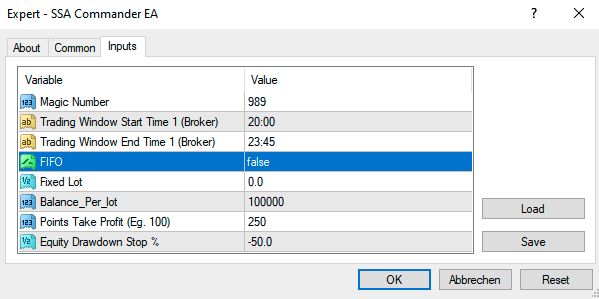 Spread:
Please consult your brokers homepage and multiply value in points by 1.5. Our recommended broker is ICMarkets, you find recommended IC Market setting in the portfolio.
Magic Number:
Please use a different magic number on each chart
Also please make sure the magic number does not conflict with the number of existing EAs running on the same account.
Trading Window Start / End Time:
Please use 20:00-23:45 ONLY! This is calculated to a broker using UTC/GMT+2 timezone, so please adapt it to your broker accordingly. We recommend using IC Markets, as all experts are tested on IC Markets only!
You may find this time zone calculator handy!
FIFO:
US customers: to use first in and first out (FIFO) it will be necessary to trade one time-frame per account. Trading several time-frames on the same account is likely to create first in first out conflicts since each instance of the EA control the trades generated by that EA and not the trades of other instances of the EA.
Fixed Lot and Balance per Lot (IMPORTANT!):
Trading variable lot size depending on your equity:
Activate by setting "Fixed lot" to "0"

Set your individual risk setting "balance per lot":

Low Risk: 350.000
Medium Risk: 300.000 (recommended)
High Risk: 250.000 (not recommended)
Very High Risk: 200.000 (not recommended)
High risk and very high risk settings should not be used without you own portfolio simulations and therefore is for experts only!
Example: 100.000 balance per lot trades 0.01 lot per 1000$
Minimum deposit for each risk setting:
- Very high (200.000): 2000$
- High (250.000): 2500$
- Medium (300.000): 3000$
- Low (350.000): 3500$
Points take profit:
There is a predefined and pretested TP per pair, please consult 3)
Equity drawdown stop %:
This setting is used as stop loss for each pair (or baskets of positions). If the pair (or basket of positions) hits the equity drawdown stop, this pair (or basket of positions) will be closed.
Please set this to either the maximum overall drawdown you are willing to accept (-50 = drawdown of 50%) for all pairs or use individual drawdown per pair. For orientation please use the table of recommended pairs above. For example: AUDCAD has a max. historic equity drawdown of 25.47% so a good individual drawdown for this pair would be 27% ( -27 in INPUTS).
Please be aware of:
If the relative drawdown is too high, simply increase the

balance per lot

to reduce the relative drawdown to a level that matches your risk preference.

The "Equity Drawdown Stop %" setting may be used as overall stop-loss level