In the hourly chart, the daily pivot point for the pair, which is below the moving averages, is followed as 1.1370, while the resistance can be followed as resistance levels of 1.1387 - 1.1397 - 1.1413. Supports of 1.1354 - 1.1344 - 1.1327 may be on the agenda.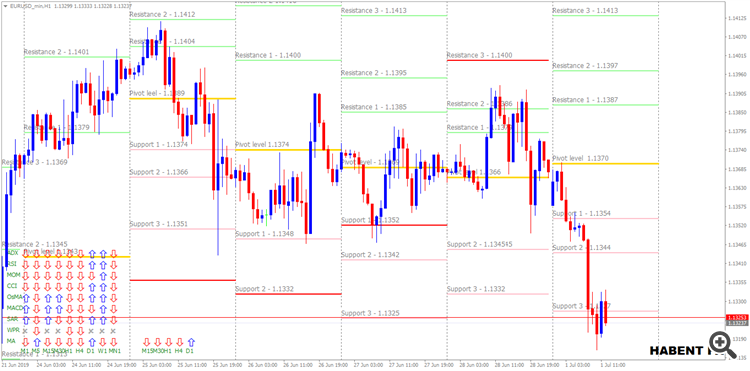 The pair closed the week horizontally / 1.1397 Significant resistance level / daily change -0.01%
On the US stock markets, the Dow Jones Index gained 0.28%, while the S&P 500 Index climbed 0.58%, and the Nasdaq Index climbed 0.48%.
"Markets are giving the Fed a very clear message, such as' lower interest rates, undo the last interest rate hike in December 2019, '' Kudlow, a White House economic adviser, said in an interview. "This is not just my message, it is the message of the President, but also the message of the markets. I am of the same opinion as the markets and I think that it will cut interest rates," Kudlow said.
Consumer Spending in the US rose in the third month, while prices rose slightly. According to the data of the Ministry of Commerce, Personal Revenues increased by 0.5% and expenditures increased by 0.4% in May 2019. Expectation was 0.3% increase in revenues and 0.5% increase in expenditures. Inflationary pressures remained low. PCE deflator increased 0.2% month-on-month as expected in May 2019, while the annual increase fell from 1.6% to 1.5%. Core PCE deflator increased by 1.6% month-on-month and 1.5% year-on-year. The core PCE, followed by the Fed, failed to reach the Fed's 2% target this year. The Fed signaled an interest rate cut in July 2019, citing lower inflation and trade tensions.
University of Michigan Consumer Confidence in the US was 98.2 in June Expectation: 97.9. While the Current Conditions Index decreased from 112.5 to 111.9, the Expectations Index rose from 88.6 to 89.3.
According to data released by the National Statistics Office in the UK on Friday, GDP increased by 0.5% in the first quarter compared to the previous quarter. Expectation was 0.5%. The UK economy grew by 1.8% in the first quarter of the year compared to the same period of the previous year, meeting expectations. Inventory growth has made the highest contribution to growth since the end of 2016, with 0.9%.
Consumer Prices in the Eurozone increased by 1.2% in June 2019 compared to the same period of the previous year and remained below the European Central Bank's target of 1.2%, despite the faster-than-expected increase in sub-items.
The data to be announced today
US side
ISM Manufacturing Employment
Supply Management Institute Manufacturing Employment
In the Euro Area