In the hourly chart, the daily pivot point for the pair, which is below the moving averages, is followed as 1.1222, while resistance can be traced as 1.1248 - 1.1264 - 1.1290 resistance levels. 1.1197 - 1.1180 - 1.1155 support may be on the agenda.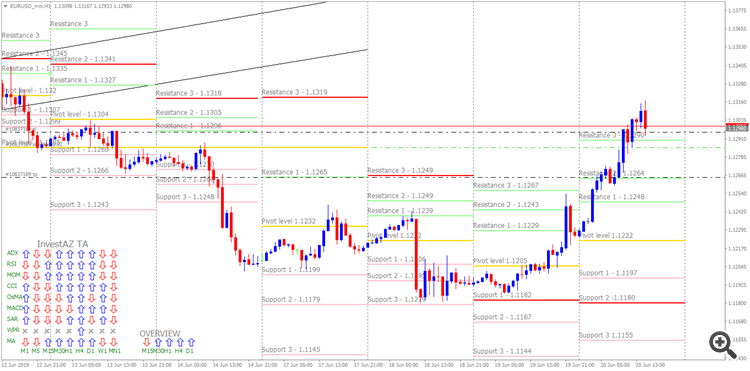 Euro Front Strengthens After Fed / 1.1180 Significant Support Level / Daily Change 0.29%
On US stock exchanges, the Dow Jones Index is up 0.15% to 26,504 points, the S&P 500 Index is gaining 0.30% to 2.926 points and the Nasdaq Index is gaining 0.42% to 7,987 points.
Fed Chairman Powell made a statement at the press conference following the June 20198 meeting of the bank. Powell said inflation remained weak. Powell said many members of the FOMC believe that the interest rate cut is appropriate. Stating that the Fed will closely monitor incoming data, Powell said that concerns about the strength of the global economy have increased.
The Fed signaled that it could lower interest rates for 2019. 8 out of 17 policy makers predicted lower interest rates for 2019. In the last situation, according to the 2019 projections of the policy makers, 8 officials expect interest cuts, while 8 members are patient in 2019. 1 member expects an increase in interest.
US Treasury Bonds pioneered the global bond rally after the 10-year bond rate fell below 2% for the first time since November 2016, after strengthening expectations that large central banks would switch to loose monetary policy.
On European stock exchanges, the UK finished with an increase, excluding the FTSE 100 Index and the Germany Dax 30 Index. At the close, the Indicator Index Stoxx Europe 600 remained stable at 384 points. In Italy, the FTSE MIB 30 Index increased by 0.41% to 21,221 points, while in France the CAC 40 Index rose 0.16% to 5,518 points, while in Germany the DAX 30 Index declined 0.19% to 12,308 points.
US Markets
Euro Area
European Central Bank Monthly Report