FX Exploit NewsTrader manual for traders:
Link for the rent product:
https://www.mql5.com/en/market/product/27354
About suffixes and prefixes....
In the Market Wath you will see: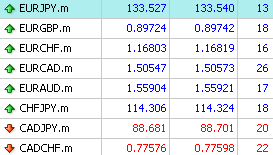 suffix is .m
prefix in empty, no prefix
so you will write in parameters settings:
1). For right works You need all 28 pairs (EURUSD, GBPUSD, AUDUSD, USDJPY, USDCHF, USDCAD, EURAUD, EURCAD, EURCHF, EURGBP,EURJPY, GBPJPY, GBPCHF, NZDUSD, AUDCAD, AUDJPY, CHFJPY, AUDNZD, NZDJPY, NZDCAD,NZDCHF, GBPNZD, EURNZD, GBPCAD, GBPAUD, AUDCHF, CADCHF, CADJPY ) to be displayed in the market watch window tab You can click right button the mice and select Show All
2). When you use FX Exploit NewsTrader EA in the first time (for example, a new account, a change of the broker) you need to download the history for all 28 pairs --> just open the pair chart (each pair separately) and go through the timeframes M1, M5, M15, M30 .... by pressing the "Home" button on the keyboard to load history of bars/candles. Then restarting the terminal to save the downloaded history (this is necessary for correct display of data from several timeframes)
3). To trade on the news for example AUD - install an expert advisor on any chart and select currency IndPairs is needed AUD
after news is over and trade is closed, the Expert Advisor needs to be rebooted on the chart -> you just need to switch the timeframe in the chart where the Expert Advisor is installed (switch from one timeframe to another) to reset some global settings OR delete it from the chart if you used the time_leave setting (UseTimeClose = true). In the future I will add the global parameters reset button after news (to make it easier)
I noticed several times that the reaction to the dollar's (USD) news is not only in pairs with the dollar AUDUSD, USDCAD.....
...this is a simple remark, USD news affect on other pairs too.
Ok, in simple words if you need trading on USD install FX Exploit NewsTrader any chart wits settings USD
in the settings, manually set the time of News event (by the time of your terminal - hour/minute and interval tracking news)
Above, Current time is time of your terminal (like on Market Wath tab your terminal)
When the Current time is in the news interval time "News Time" words will be highlighted (LimeGreen color)
don't forget use TotalStopLoss and TotalTakeProfit (or use manual manager to close positions)
Happy trading!