Übersicht

Bewertungen

Diskussion
MegaTrend MT5
MegaTrend is a trading system based on medium-term impulse price fluctuations. Each trade is opened when there is a corresponding trend. MegaTrend conducts in-depth technical analysis of your chosen currency pair and takes into account fundamental factors when using the news filter. The Expert Advisor does not use aggressive and dangerous trading methods and therefore is as stable as possible when using certain settings. For safe and the most stable trading, you should always use SL. With its unique filtering algorithm for false market entry signals, MegaTrend recognizes the best possible entry point to generate potentially more profit.
Benefits:
No grid, no martingale, no position averaging.
The advisor is focused on the long term.
There are no unnecessary customization options, making it easy to use.
Compatible with most brokers.
It is a multicurrency EA and can trade on any time frame.
You can start trading with a minimum deposit of $ 100.
The EA is suitable for both beginners and professionals.
A unique system for determining the best market entry point.
Shows high performance.
There is always only one trade in the market.
Recommendations:
You can use the EA on almost all currency pairs, but it showed the best results on the GBP / USD pair. Also, with certain settings, you can get good results on other currency pairs. The best timeframe for trading is H4. For the most profitable trading, I recommend using brokers with low spreads.
Expert Advisor testing:
When testing on history, it is important to use a fixed spread (up to 10), since all brokers have different spreads and this can distort the testing results. Use the recommended currency pair that has shown the best test results.
Configurable parameters:
Initial lot - lot.
AutoLot - automatic lot calculation.
Percent of balance for lot calculate - deposit load in percentage.
Take Profit, points - real Take Profit in points.
Stop Loss, points - real Stop Loss in points.
Virtual Take Profit - virtual Take Profit.
Virtual Stop Loss - virtual Stop Loss.
Max Drawdown - maximum drawdown (in percentage) of the total deposit (at which all trades will be closed and the advisor will turn off).
Max spread - the maximum spread at which the EA is allowed to open positions.
Maximum Slippage - maximum slippage when opening deals.
Magic EA is a magic number by which the EA distinguishes its positions from other orders.
News Stop Trading - disabling the advisor during news.
Käufer dieses Produkts erwarben auch
Weitere Produkte dieses Autors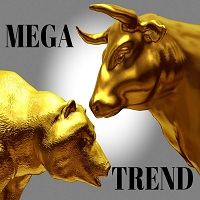 MegaTrend
Stanislav Chertopyatov
Remaining 2 copies priced at $ 119, next price $ 199. MegaTrend is a trading system based on medium-term impulse price fluctuations. Each trade is opened when there is a corresponding trend. MegaTrend conducts in-depth technical analysis of your chosen currency pair and takes into account fundamental factors when using the news filter. The Expert Advisor does not use aggressive and dangerous trading methods and therefore is as stable as possible when using certain settings. For safe and the mos
119 USD