Übersicht

Bewertungen (1)

Diskussion
No Nonsense Forex EA MT5
ONLY 3/20 COPIES AVAILABLE AT 125$

NEXT PRICE -> 250$
No Nonsense Forex Expert Advisor is a fully automated Trading Robot based on the No Nonsense Forex Algorithm, a result of 2 years of research and tests. Some parts of the strategy is based on a fund that i discovered some backtests of their strategy. The trading system takes huge trends and filter a lot of consolidation, suitable for both experienced traders and beginners.
Default parameters are for EURUSD
IF YOU BUY TODAY I'M GOING TO SEND YOU A BONUS! ALL THE TOOLS/INDICATORS I USE AND A PDF WHERE I REVELED EVERYTHING ABOUT THE STRATEGY. (After you buy send me a private message on my profile here on mql5 and i will send to you the bonus)
Time Frame is D1
Every trade is protected by stop-loss
The EA is very easy to setup and use
No martingale, grid or hedging is used
Work at any broker
Broker and Leverage
No Nonsense Forex EA is not a broker sensitive you may choose any broker you want to and any leverage is fine.
Broker and Leverage Recommended that i personally use.
IC Markets
Account: Standard
Leverage: 1:500
Main Parameters:
Lot management type: fixed lot, risk in % or increase and decrease lots as you win trades.
Lot Initial fixed: if you chose the fixed lot
Risk %: If you chose the risk in % (thats what i recommend)
Lot to raise/decrease: If you chose the increase and decrease lot management which lot do you want.
Take profit: I trade with trailing stops following the trend, so i put 0. If you want a take profit fixed put a number.
Enable Stoploss: True
Timeframe of stop loss: 1 Week
Max open orders: put 1 if you want to be conservative not risking your balance, when i backtested and took the screenshot i did with 9 open orders at the same time, dont do more than 9, because the more open orders more risk.
Indicators
The ATR
The Baseline
1st Confirmation
2nd Confirmation
Volume Indicator
Exit Indicator
Candle Confirmation
IF YOU BUY TODAY I'M GOING TO SEND YOU A BONUS! ALL THE TOOLS/INDICATORS I USE AND A PDF WHERE I REVELED EVERYTHING ABOUT THE STRATEGY. (After you buy send me a private message on my profile here on mql5 and i will send to you the bonus)
Käufer dieses Produkts erwarben auch
Weitere Produkte dieses Autors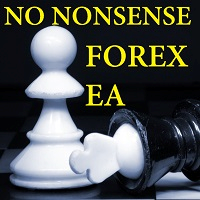 No Nonsense Forex EA
Italo Santana Gomes
ONLY 3/20 COPIES AVAILABLE AT 125$ NEXT PRICE -> 250$ No Nonsense Forex Expert Advisor  is a fully automated Trading Robot based on the No Nonsense Forex Algorithm, a result of 2 years of research and tests. Some parts of the strategy is based on a fund that i discovered some backtests of their strategy. The trading system takes huge trends and filter a lot of consolidation, suitable for both experienced traders and beginners. Default parameters are for  EURUSD   IF YOU BUY TODAY I'M GOING TO
125 USD