Übersicht

Bewertungen

Diskussion
SimpleCalculation
This trading panel allows to preview (before sending the trade request) the potential profit by take profit and the potential loss by stop loss. These values are calculated by setting the deal volume and moving three horizontal lines: "OPEN", "TP" and "SL". This gives a trader the ability to easily and quickly select the order volume and the stop levels for the future order. After selecting the suitable parameters, the trader can send the corresponding trade order by pressing "Open order".
The trade panel has an intuitive interface and is made in two versions, for MetaTrader 4 and MetaTrader 5. Below is the demonstration video for the MetaTrader 5 version, but it is also valid for the MetaTrader 4 version.
The panel calculates the profit and loss without taking the slippage into account!
Käufer dieses Produkts erwarben auch
Weitere Produkte dieses Autors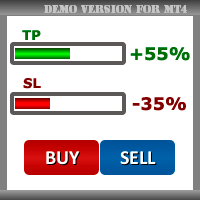 SimpleCalculationMT4Demo
Vasilii Kopyrin
This trading panel allows to preview (before sending the trade request) the potential profit by take profit and the potential loss by stop loss. These values are calculated by setting the deal volume and moving three horizontal lines: " OPEN ", " TP " and " SL ". This gives a trader the ability to easily and quickly select the order volume and the stop levels for the future order. After selecting the suitable parameters, the trader can send the corresponding trade order by pressing " Open order
FREE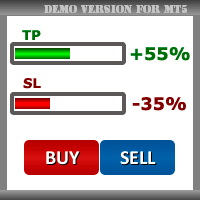 SimpleCalculationDemo
Vasilii Kopyrin
Торговая панель позволяет предварительно (до отправки торгового приказа) просмотреть возможную прибыль по тейк-профиту и возможный убыток по стоп-лоссу. Расчет этих величин производиться путем установки объема сделки и передвижения трех горизонтальных линий: " OPEN ", " TP " и " SL ". Тем самым, давая трейдеру возможность удобного и быстрого подбора объема и стоп-уровней для будущего ордера. Подобрав подходящие параметры, трейдер может отправить соответствующий торговый приказ, нажав на " Open o
FREE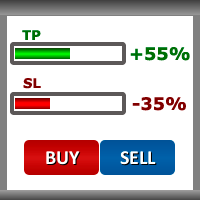 SimpleCalculationMT4
Vasilii Kopyrin
This trading panel allows to preview (before sending the trade request) the potential profit by take profit and the potential loss by stop loss. These values are calculated by setting the deal volume and moving three horizontal lines: " OPEN ", " TP " and " SL ". This gives a trader the ability to easily and quickly select the order volume and the stop levels for the future order. After selecting the suitable parameters, the trader can send the corresponding trade order by pressing " Open order
12.50 USD